The Wired Wig recently spoke to Catherine Bamford, Founder and CEO of Bamlegal, specialising in improving legal processes though technology.
But what is Legal Engineering?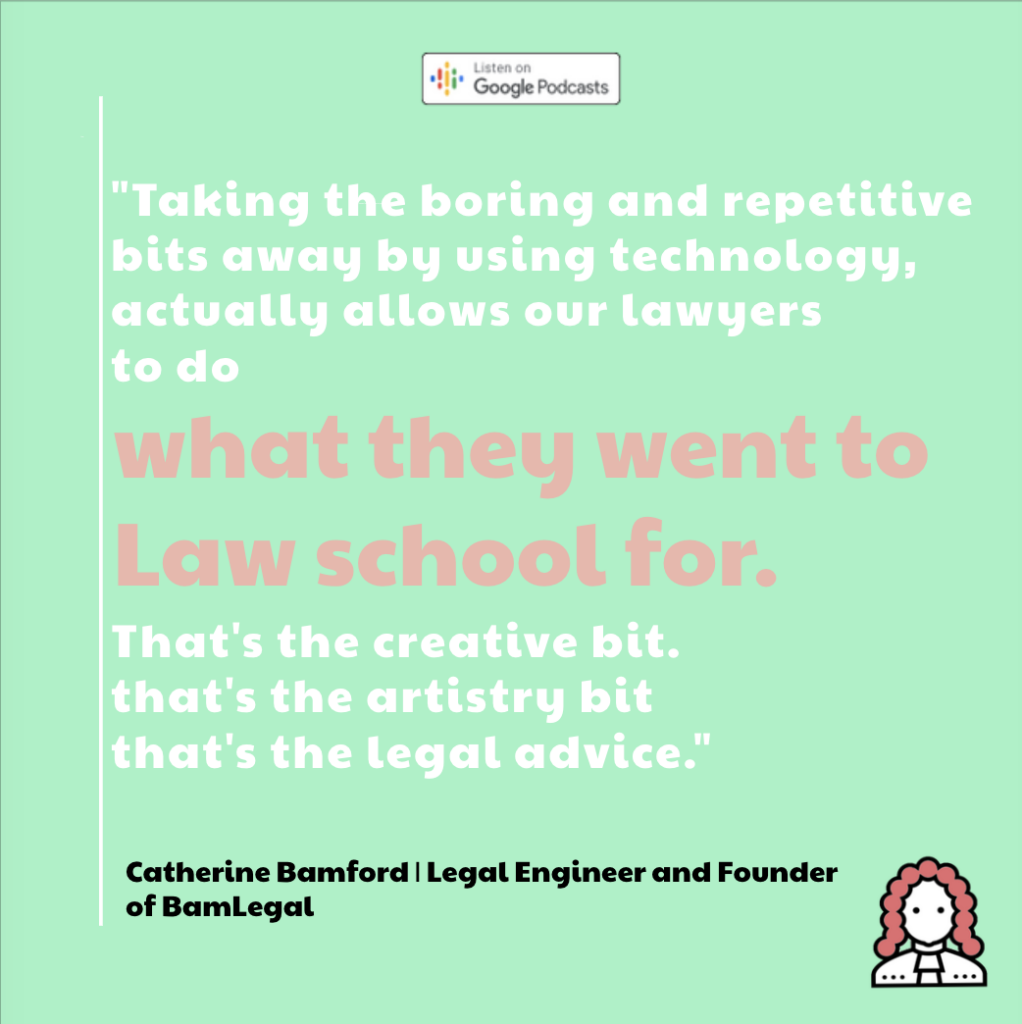 Charismatic and friendly, Catherine explained in this episode why she became a Legal Engineer and what that really means.
What is a Legal engineer?
When Catherine started at Pinsent Masons, she had the opportunity to join a team to reimagine legal processes through automation. During this time the team coined the term 'legal engineer' for a role which takes legal content and reengineers it to make it a better process. Catherine then continued to assist the firm in this, especially when the 2009 recession hit and they asked how to make own departments more efficient
Catherine explained to me during the episode that when she realised the similarities between algebra and coding, she started to love it. In addition, automating Law also allows a level of creativity not typically utilised in traditional Law.
Legal Tech is a bit like Marmite
During the episode I was curious whether Catherine had come across some resistant lawyers to technological change in their departments. The answer is yes: Law and Technology can really be like Marmite and is disregarded as impactful by some.
"When implementing, ignore the sceptics. Go where the people are passionate. If there is success there, they will tell others. If you prove return on investment, it is hard for others not to get involved."

Catherine Bamford
Catherine also mentioned it is important that you really understand how to utilise the technology. As Legal Tech is currently a hot topic, it is also important for a firm to not get too excited, buy everything and let tools then sit under dust. A Legal Engineer can therefore help with the utilisation of these tools and prevent this occurring.
Intrigued to learn more?
Now easier ways have been created to do previously time intensive tasks, smart firms will be using tools for document automation and client management to streamline their operations and pull data from their documents.
During Catherine's episode she discusses where the industry is heading, as well as some resources to tap into to discover more.
The Wired Wig explains helps to plug in Digital and Technology Law into businesses. It explains technology concepts and informs business leaders and students how the Law could respond to innovation.
The podcast is available on Spotify, Google Podcasts, Apple Podcasts and other podcast providers found on Anchor.