On the podcast, we have alluded to the state of legal education being at a turning point; the need for students to learn about how technology will affect the future practice of law, whether through legal technology or how we legislate those technologies, is becoming increasingly apparent. But with slow-changing curriculums and burdened with other priorities to consider such as the upcoming SQE, schools have been slow to implement modules to engage students in these topics.
One of the aims of The Wired Wig (TWW) is to encourage students to think behind their studies and to take opportunities to learn about the future of the profession and how technology impacts it. For this reason, TWW is an ambassador for the student run Warwick Law Summit (WLS), which will take place on the 6th February 2021.
WLS is an online one day conference open to all law and non-law students and professionals to attend. While the primary focus of WLS is not technology, it is hosting several inspiring speakers from the Law and Technology industry. One opportunity to engage further in the topic is through a legal technology and AI panel which will include speakers Catherine Bamford (Founder and CEO of BamLegal), Prof. Christian Twigg-Flesner (Chair in International Commercial Law at Warwick University), Lauren Moore (Founder of "GlobalTechLoop"), Jacob Turner (Barrister at Fountain Court Chambers & author of Robot Rules: Regulating Artificial Intelligence (2018),) and Holly Tunnah (Legal Technology Product Specialist at Norton Rose Fulbright). In this panel the usage, benefits and downsides of legal technology will be discussed, and how new technologies will be legally encompassed into current legal frameworks.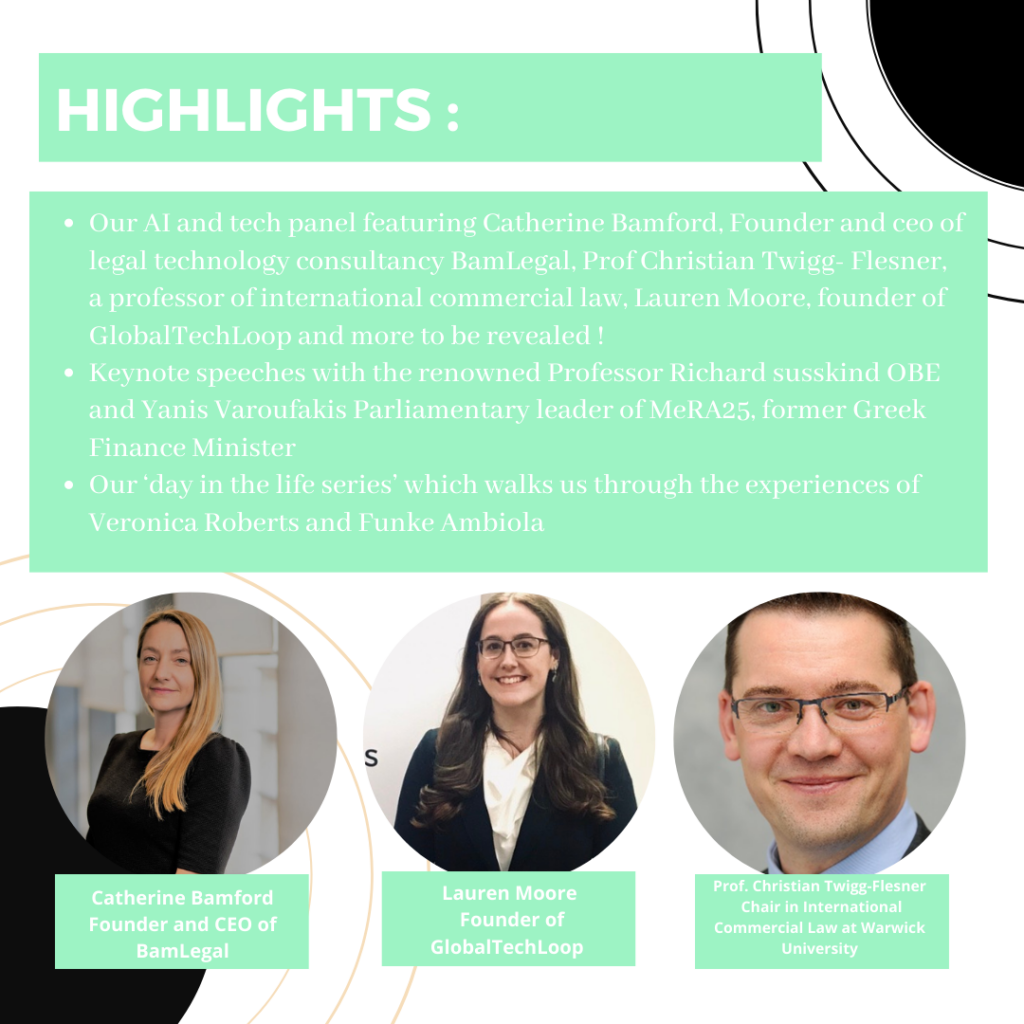 I'm excited about the summit for several reasons:
Conferences are typically reserved for business and financial topics. The practice of Law however is highly business-driven, and encouraging students to attend a legal conference to engage in a number of topics will provide insights very welcomed in applications and future legal experience.
Law is typically seen as a slow-moving area. By passing the mic to those currently in practice and at the core of these subject specialisms, students can understand the working mechanisms behind our changing systems.
WLS will have workshops covering mindset and female workplace empowerment. While these are among other topics like applications and interviews, I believe these two topics are key to helping enable some students to be brave and take less walked paths post graduation. This could include joining a startup or taking a lesser known legal role.
Overall, we are looking forward to seeing how WLS encourages lawyers of the future! The final round of tickets will be released soon so keep an eye on the Warwick Law Summit's pages for updates.